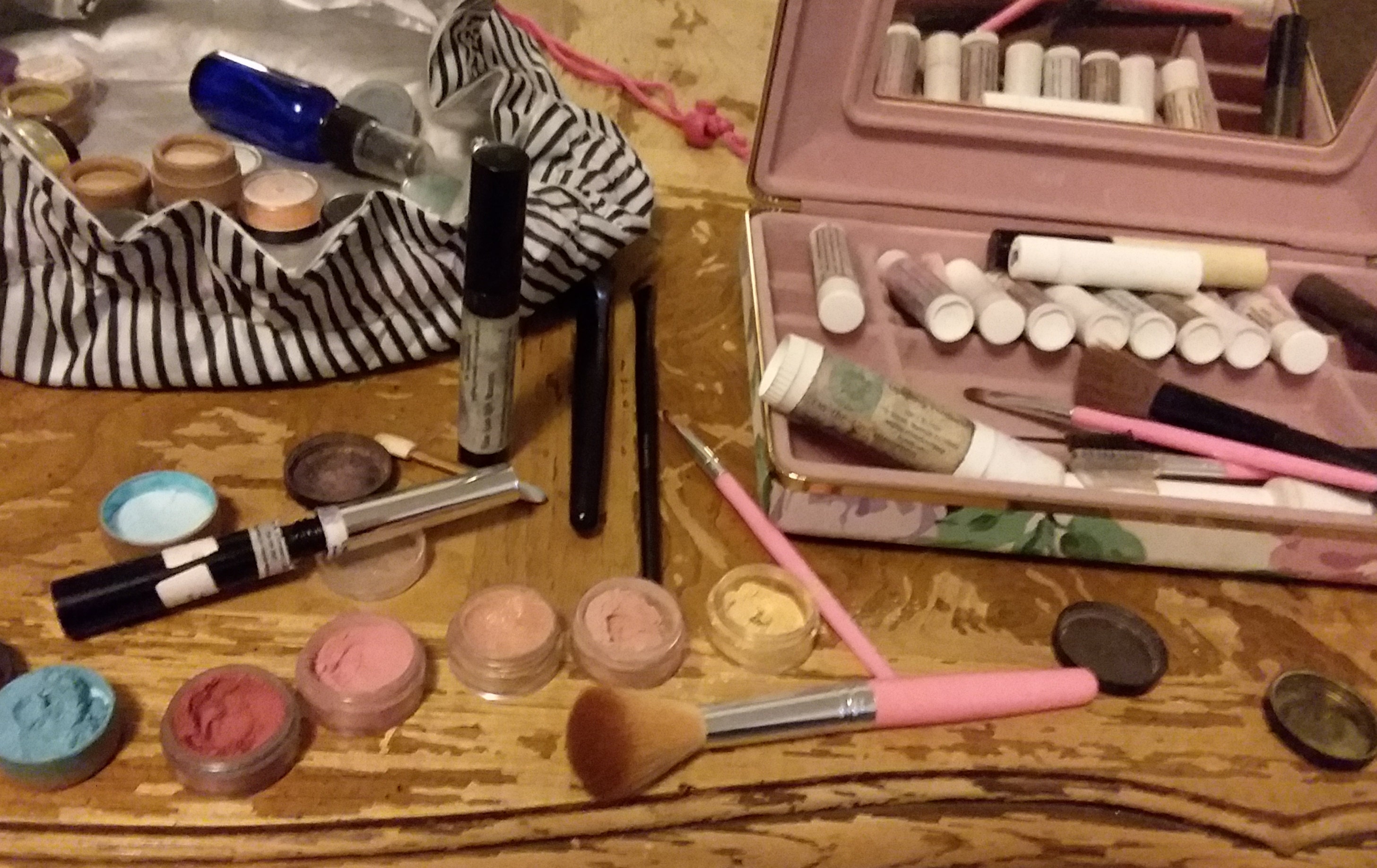 ***This is my everyday makeup mess!***
Better Late than Never!
Hello, welcome back to the blog. Sorry for the delay, life is crazy and after a little transition period and being with my family for the holiday I am back to it! 
This week I did a makeup look using only Uplifting Products that is super sparkly and Thanksgiving Dinner appropriate. Check it out below!
This look features only Uplifting Products. I only use natural food grade ingredients to make all of my products and the colors all come from mineral based pigments.
Eye Lash Serum - this formula actually works, I use it for taming my eyebrows and giving an extra layer to my mascara
False Lash Look Black Mascara - only made from oils and waxes, the color comes from charcoal, this is a wet mascara you put on in layers, let it dry in between and will build for a false lash look
All Natural Black Eyeliner - just three simple ingredients, one of the most natural products UP offers, becasue its is a liquid oil eyeliner I put this on in thin layers and let it soak in before continuing with my look
Cocoapuccino Mineral Eyeshadow - a rich dark brown with high shine, all of UP Mineral Eyeshadows are made with cosmetic white kaolin clay and then a blend of micas and clays to achieve our color
Copper My Tone Mineral Eyeshadow - dark orange with bright sparkle
Dusty Horizon Mineral Eyeshadow - super sparkly beige perfect for every skin tone
Gold Rush Mountains Mineral Eyeshadow - yellow gold, used this as a highlighter and to blend my eyeshadows together
Floor It Mineral Eyeshadow - bright yellow reminiscent of a traffic light, used this in the corner of my eye for a pop of color
Rosy Love Mineral Blush - this dark pink is great for blush or eyeshadow, made with the same ingredients as the eyeshadows
Sugar Plump-Up Lipstick - a nice deep red with purple undertones, this color is a blend of micas and clays, UP lipstick is made with a cocoa butter base, is very moisturizing without funky smells or tastes, you will forget you are wearing lipstick
And the result is:
Uplifting Products is still in production, we love making all natural cosmetics and helping women feel beautiful in their own skin. However, I will be traveling around for the winter and online is the best way to commuicate with me about where I am and what shows are happening next. 
Hope you enjoyed the video and next week we will be back to our normal fully eductaional self.
What product would you like to hear more about?
Any makeup ideas you want me to go over?
I know it was a short blog this week, but what can I do to improve my videos?
<3 from the Mountains
Dakota